USA Roadtrip 2019 – Episode 1:
Las Vegas & The perfect Hot Top location
Never would I have imagined that the first US city I will ever set foot in would be Las Vegas, the city of entertainment. I usually don't like big cities, and prefer nature and culture. Nevertheless, it would be the start of our road trip as Enrique and his colleagues (Audrey, Idriss and Max) participated at the CES (Consumer Electronics Show) with their startup O'Sol the week before.
My plane landed at 18:20 and I was a bit scared that the whole entry process will take hours. The passport control including questions about my stay went smoothly even though I couldn't even tell the lady where we are going to go on our road trip. Enrique had forwarded me the confirmations of the Airbnbs we were going to stay just in case. However, I preferred to stay totally uninformed, so that our activities will remain a surprise and so that I can enjoy the moment better without having to worry about the planning. I felt I was making myself look very suspicious with my ignorance regarding to where I am going to spend my time in the US, but the lady remained friendly and seemed happy with my answers. Despite my worries, I was out within 40 minutes after arrival.
Enrique picked me up and we took an obligatory photo of the Las Vegas sign: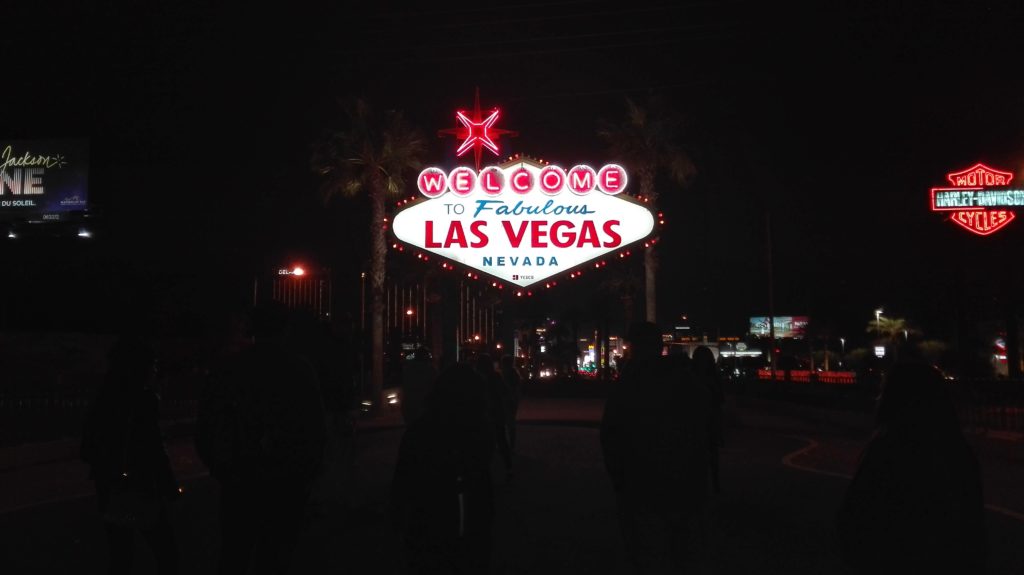 We drove along the famous "strip" where all the casinos and attractions are located and I was positively surprised. Instead of a big mess of clubs, people, trash, noise and light that I expected I found the city to be quite aesthetic. The buildings look very neat and despite the many different architecture styles, they seem to fit together. Instead of drowning in noise, I couldn't believe how quiet it was when I opened the car window. I could hear some club music, but not competing with the neighbour one and no people screaming, no cars honking. Generally the cars were so much quieter than what I am used to.
Maybe the city appeared so calm, because it was only around 20:00. To catch up on sleep and to be ready for the start of the road trip on the next morning I went straight to sleep when we got to our Airbnb. But don't worry, we will come back at the end of our road trip and then I will be able to get the real Las Vegas experience.
In the meantime, I can nevertheless tell you a funny story that Enrique told me: He wanted to order an alcohol-free cocktail and the bar keeper was so confused about the order that he asked him what it means, whether it's just mixing some juices together. A normal cocktail costs around 15$, but Enrique paid 4$ for his alcohol free one as the waiter considered it as "juice" instead.
In the morning of 13th January I joined Enrique and Idriss to get our rental cars, as I wanted to see a bit more of Las Vegas. Enrique said it's not really worth it and looks totally normal. He described the strip as a stage where the entertainment is happening and the rest of the town as the backstage that is serving the stage. Indeed, if it wasn't for the strip I wouldn't be able to tell that that city is Las Vegas.
We drove for around 1.5 hours to the Valley of Fire, Nevada. We were lucky with the cloudless sky and the landscape was breathtaking:
<Click images to enlarge>
Afterwards we headed off on another 3 hour long journey to Kanab, Utah. To our disappointment, we crossed a time zone which stole another hour. To our delight, the Airbnb house had a hot tub: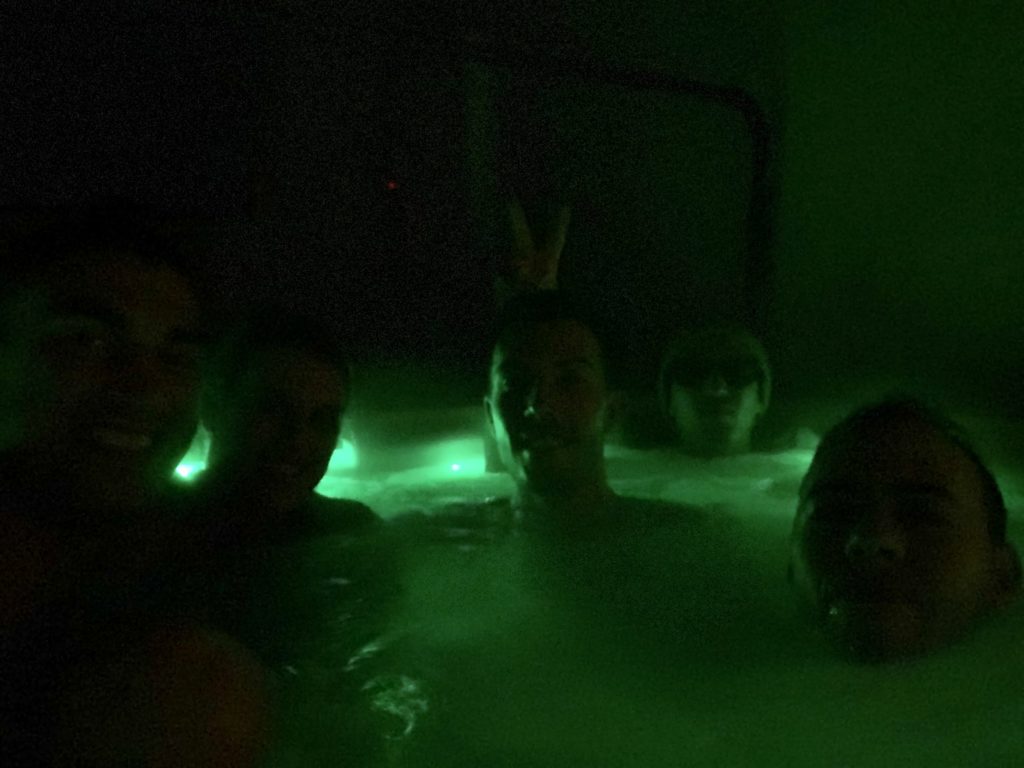 Not only the hot tub made the house awesome: we had 3 huge bedrooms and 2 bathrooms for now 6 people, as Idriss's friend Khalid had joined us that day for the rest of the trip. We also noticed that it's true what is said about the US – that everything is a little bit bigger than in Europe.
<Click images to enlarge>
Click here to read the next episode of this USA Roadtrip 2019 or navigate through the Table of Contents:
Table of Contents
Arrival & 1st Day
---
Written by Julia Heuritsch | Last edited: 24th June 2022