Uganda Trip 2019 – Episode 1:
29hrs from Berlin to Masaka
On 14th September 2019 my adventure started: It took me 3 flights and nearly 17 hours to get from Berlin to Entebbe; the main airport in Uganda. After the first stop in London Heathrow I landed in Addis Ababa, Ethiopia. From the plane I could catch my first glimpse of central African territory.
I was forced to check-in my hand luggage on the last plane from Addis to Entebbe. Once I was seated on the plane I realised that I hadn't taken out my visa documents. In panic I asked a flight attendant what to do. She said, she will inform the ground staff in Entebbe to take out the suitcase and give it to me straight after landing. What a stress! At least I had a nice seat neighbour – an Egyptian guy called Youhanna. We chatted a lot! Once landed, I was informed it wasn't possible to hand out the hand-luggage separately so I had to tell that to immigration, get the checked-in suitcases and go back to get my visa. I was a bit stressed out, since I couldn't imagine how immigration would let me though without a visa. I already pictured myself stuck at the airport like Tom Hanks in "Terminal", not being able to get my visa and not being able to fetch my suitcases. Thankfully, immigration could give me my visa, since they had all the information in their system and fortunately, I had my passport with me. I was so relieved! However, my adventure at the airport was not over yet …
Youhanna and me were waiting together for our luggage. His came, but we waited and waited and waited for mine. I told him, he could leave any time, but I was so grateful that he stayed. Frequently travelling alone really made me appreciate when somebody is accompanying me, especially when things go wrong. We waited for an hour, but my suitcase didn't show up. After reporting the delay to the airport office we left the airport – of course without my suitcase. Since it took me so long to get out I was worried that the people who were supposed to pick me up gave up and left. Youhanna offered to drive me in that case, but thankfully I spotted a guy holding a sign, saying "ISSU".
The drive to the hotel only took 10 minutes. I expected to meet many participants and the organisers of the summer school at the hotel, but instead I was welcomed by the receptionist who gave me a key and led me to my room. I was quite puzzled, since the actual plan according to the email I received about our arrival said that we would have breakfast at the hotel together. So, when we arrived at the room, I asked her where the others were and she said that they were in their rooms, freshening up. When asked about breakfast she said, she doesn't know about it. Ever more confused, I went back to the reception and thankfully found the main organiser, Marlene, who wasn't hard to spot, since she was the only other white person there. She said, she doesn't know what's going to happen about food. That was the first of many experiences in Uganda where things that were organised just didn't work out. She also said that we will delay our drive to Masaka by 1 hour to 15:00, since an air plane with more participants was delayed. Actually, I didn't mind this delay, since that meant I could sleep a bit in my room. And thinking about it – I preferred a room to breakfast, since what I really needed was sleep, even though I had slept on both flights. 2.5 hours of sleep later we finally left with a shuttle bus.
The shuttle bus was also an experience in itself. While in Europe busses are temperature-controlled and windows generally can't be opened, this bus looked like it's going to fall apart any time and air draft from fully open windows served as air conditioning. The best part was the baggage loading, through the window of the bus. Our luggage got the back seats.
Along the way we picked up some more participants and so we didn't know where they should sit, since all the seats were either already taken by people or by luggage. Then we found out that there were seats in the corridor one could unfold. And so we carried on – a mini shuttle bus, stuffed with people and luggage – on our 4 hour ride to Masaka where our summer school was about to take place.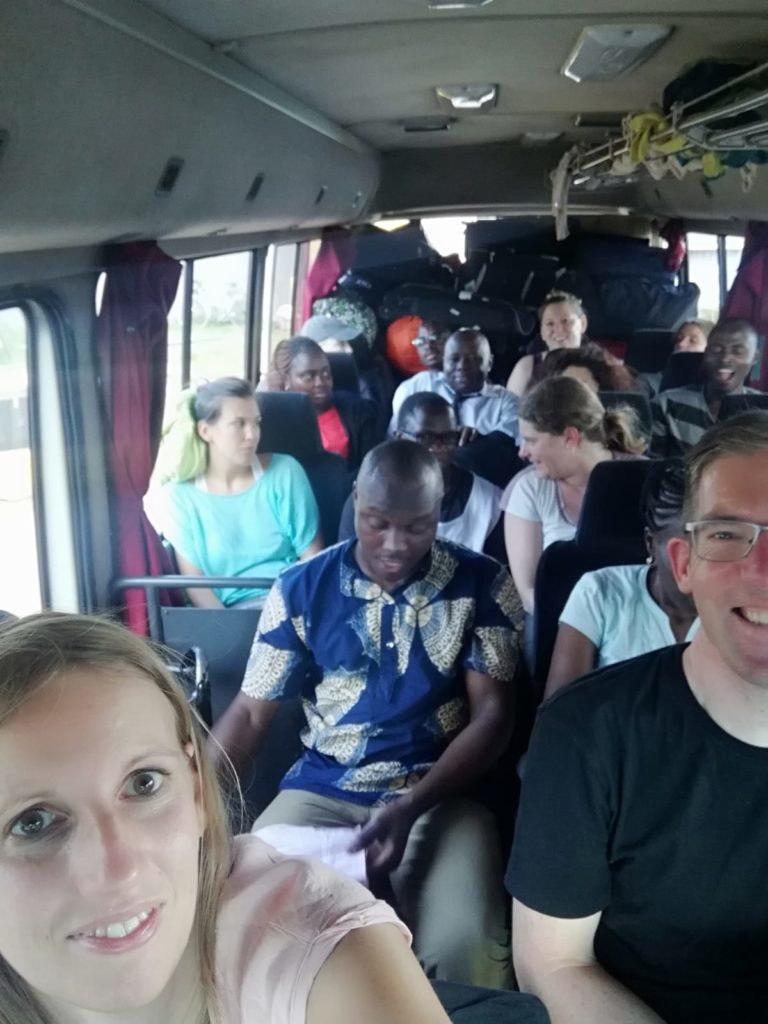 Again, I could catch up some sleep during the ride, but I was also curious to look out of the window. Everything looked so different from Europe, which of course I had expected, but I didn't know what was going to await me. There were cows and goats on the streets, being leashed to trees, people carrying things on their heads, people working on fences, people selling fruits, garbage everywhere. No matter where you looked something new and surprising was waiting for you.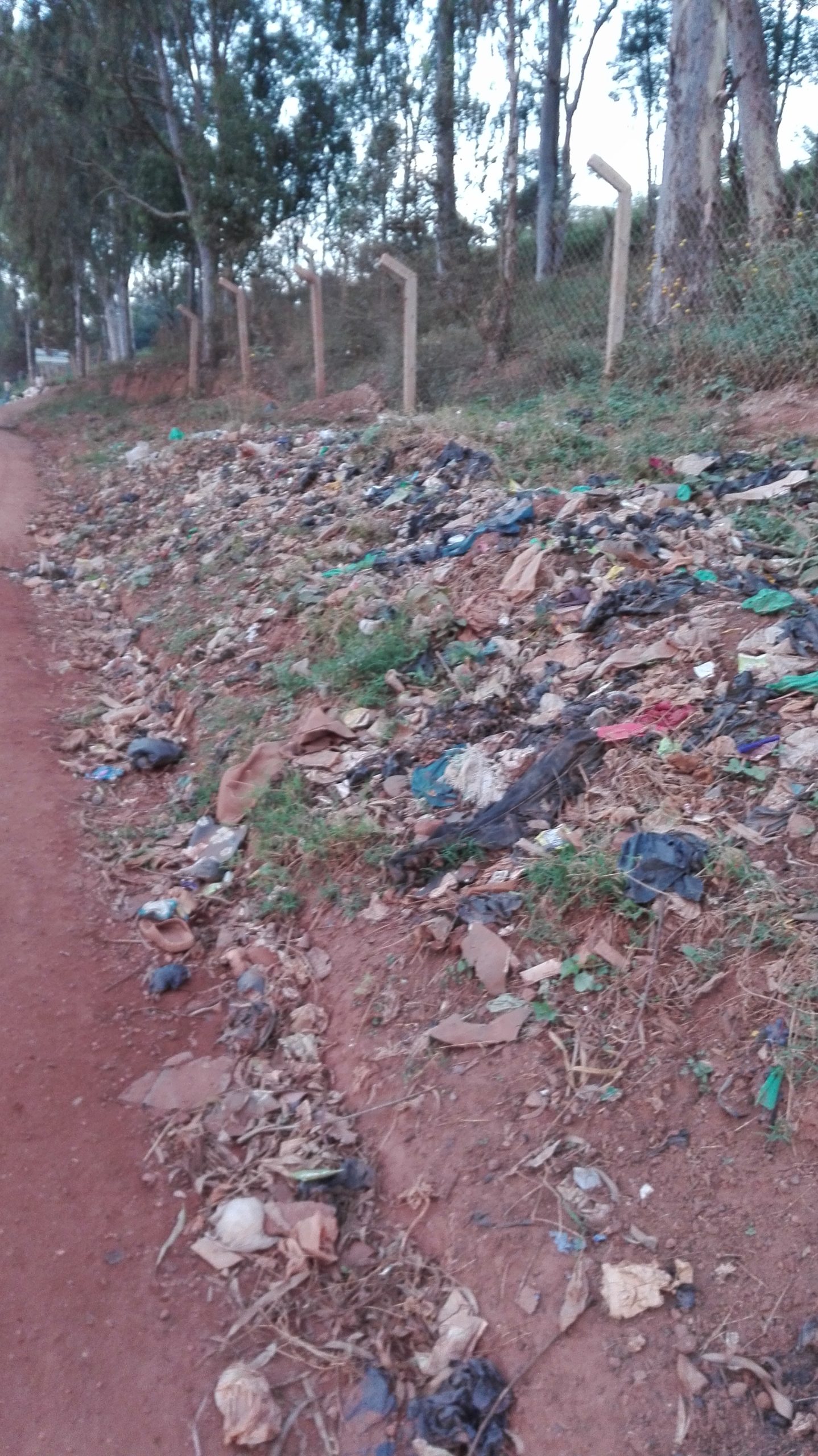 Naturally, we couldn't resist doing a short stop at the equator.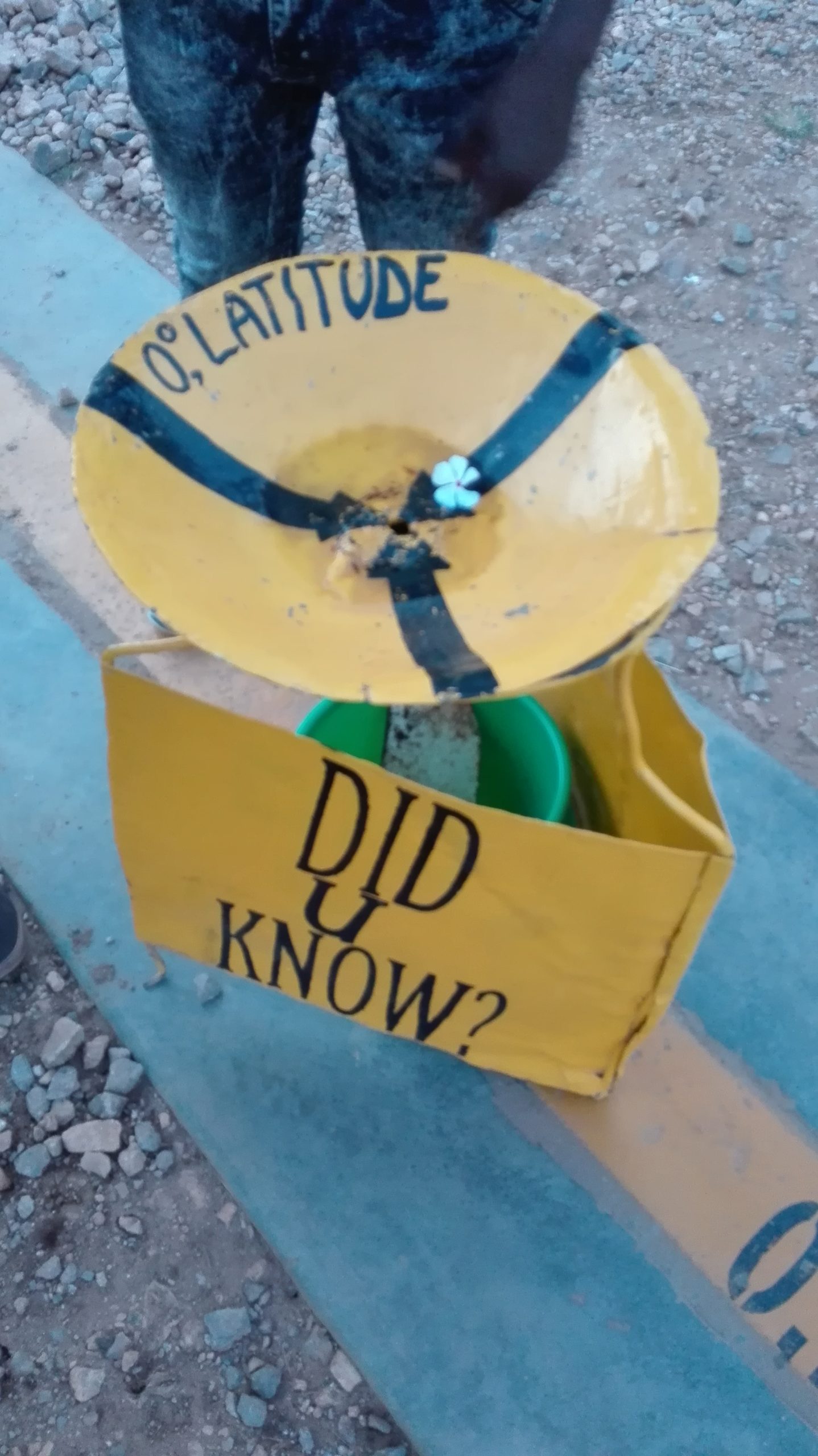 We arrived at the hotel in Masaka at around 20:00 local time (GMT+3), so around 29 hours after I left my home in Berlin. We – the 50 course participants – were supposed to be briefed in the conference room. I found that to be an ambitious plan, given that once the shuttle bus arrived everybody disappeared to their rooms and the other participants who arrived with another bus before us surely also had no clue about that meeting. So it was decided to be cancelled. Since I was only living off the brownies I took from the plane that day I was quite hungry, so I decided to join the German girls Isabel, Tajana and Moira for a light dinner given the late time. We were a bit disappointed that the cooks took an hour to bring us some fried vegetables with rice.
But my day wasn't supposed to be over yet. After that long journey and knowing I had no change of clothes, because of my lost suitcase, I was quite looking forward to having a hot shower and washing my hair. But surprise – the water didn't get warm. I called the receptionist and he responded that there is nothing he can do no; it would be repaired in the morning. I asked him if I could actually change rooms the next day to one that is in a less noisy part of the hotel. What I didn't tell him is that just a few minutes before I was disturbed by some loud music in front of my window. When I looked outside, I saw a naked African guy passing by, entering the building just in front of my window where he went to have a shower. Given that it didn't look like a normal hotel room to me, I concluded that he must be hotel staff. I found that quite amusing actually.
In the end, I decided to go to sleep without a shower, since I felt quite cold already. That meant. however, that I would feel like a pig on the next day – not showered after a 29hr journey and no change of clothes.
Click here to read the next episode of this Uganda Trip 2019 or navigate through the Table of Contents:
Table of Contents
29hrs from Berlin to Masaka
---
Written by Julia Heuritsch in September 2019 | Last edited: 6th July 2022