Uganda Trip 2019 – Episode 5:
Off to Ssese islands
It's the weekend!
The German girls, Isabel, Tatjana, Moira and Dumitru – a Moldavian guy living in Germany – and me planned to go to Ssese islands already that day, while most other participants joined us on Sunday. So we decided to leave at 10:15, straight after breakfast ended. One of the Ugandan organisers, Vincent, referred us to a woman who offered to take us to the ferry by car in order to earn some additional money to support her family. We gladly accepted the offer and so she picked us up in front of the hotel. I had forgotten something in my room, so I ran back to the reception to collect my key, which was one of the only time I handed it back. I was told that they had already taken the keys to the rooms to clean them and so I ran to my room. It was quite a curious discover I made there: First, indeed our assumption was right that the hotel only had one key for every room and no master key, so they needed the keys back to clean the room. Second, when I arrived at my room I saw that the key of every room in that area was in the outside lock and the rooms were unguarded. When I left my room I tried not to be paranoid about getting my laptop stolen from my unguarded room.
The first stop wasn't far – the ATM in town. We found one where we didn't have to pay any ATM fees. The thrilling aspect about getting some cash in Uganda was that one is required to type in the amount one wants by multiples of 10000 Ugandan Schillings. I can tell you, it's quite stressful calculating in your head how many multiples of 10000 you need to get an amount of 70000 UGX. Of course it's quite a simple calculation, but knowing that a mistake of only one more 0 will make quite a difference you ask yourself several times if you won't get out a few millions by mistake instead. A funny side fact: there was an avocado tree in front, and we found a *massive* avocado on the floor, which we took with us to eat later.
The journey to the ferry took us a bit over an hour and it was a quite bumby road – no asphalt, only red dust. This was the first time (at least that I understood) that a kid wasn't only waving at us, but also asked us "white" people for money. A friend who spent some time in Rwanda had told me previously that this happened a lot to her, given that people assume you are rich, because you are "white". I spotted more rubbish piles along the way.
When we arrived at the ferry we had to show our passports to get our names on the passenger list. I actually didn't even think of taking it with me and so I was quite nervous to see if they would just take my passport copy I always carry on my phone. To my relief they did! The ferry was for free and provided by the government. While we were waiting for the ferry to arrive we observed the area. It was quite interesting that after a few days in Africa, I – as a "white" person – also started noticing "white" people I didn't know since they are so rare. While it wasn't that unusual to see tourists on a ferry, it was still quite strange to spot "Mzungus".
Crossing from Bukakata to the Ssese islands with the ferry only took slightly longer than half an hour. We didn't have a plan for what we would do once we arrive. We deliberately didn't plan anything beforehand – neither where we were going to sleep, nor what we were going to explore. Our plan was to arrive and then see where we are going to end up.
By the time we got off the ferry we weren't aware that our first adventure will lie right ahead of us: looking at the map (thankfully Isabel had an offline map of the island on her phone) we realised that the "town" Kalangala is 32km away, on the other end of the island and that we had to assume that there was nothing much in between. Now, how were we getting there, given that walking that far really wasn't an option? Thankfully, however, a bunch of Boda boda drivers were already trying to convince us to give us a ride. And so our Boda boda adventure began: we decided to go with them – 2 of us per Boda boda, apart from Moira she went alone with one of them.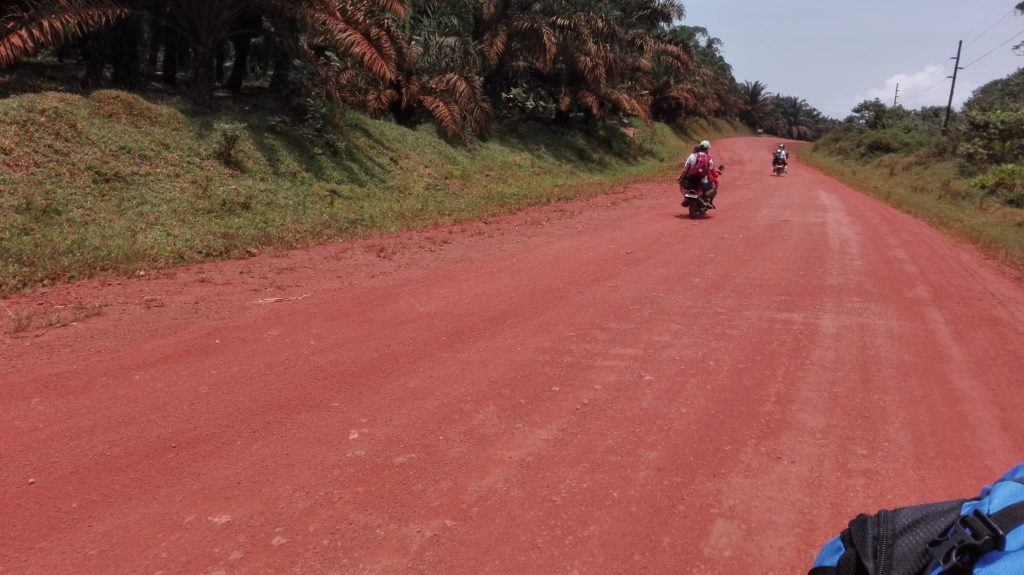 While I wouldn't have been scared, I would have felt quite uncomfortable going by myself like her. At the end of the day, I couldn't rely on having signal on my phone and I had no idea where we were. So I was quite happy to share the motorcycle with Isabel. Especially so, after our driver did just split off from the other two by taking a sudden turn to the left. We looked at each other with a worried face – if I had been by myself I would have panicked. Thankfully, we figured out quite quickly that he was just getting some petrol. The ride was again quite bumpy with many potholes that couldn't impress the Boda boda drivers. Actually, I didn't feel unsafe though, as I could feel how experienced they were and knowing that they wouldn't want to die themselves. That is why I decided to trust in their competence and I truly enjoyed the ride.
Our driver pointed out a solar farm on the way, which he said powers the whole island. I was good to see that kind of green energy next to all the decades-old and polluting vehicles in Uganda. Once we had to drive behind a bus for what seemed like hours, but probably was just a few minutes. The bus released so much exhaust fumes that we could barely breath, so we were happy when our driver could finally overtake. All in all, it was such an adventurous fun experience, albeit also a little painful: I was sitting on the back and whenever we went upwards I had the metal bar at the end of the seat bumping against my coccyx. Also, when I got off the motorcycle, I jumped off the wrong side and burnt my leg on the exhaust. That also was a different experience to what I am used to in "Western" countries: either the exhaust would be covered or you would be briefed about the location of the exhaust and that you shouldn't touch it. Oh well, that was part of our authentic Ugandan experience.
We underestimated the ride that took a bit more than an hour, even though we knew we will have to go for more than 30 km. That is why we didn't even think about putting sunscreen and took away quite a sunburn, especially Isabel who turned red like a lobster on the next day. Besides, when we got off the motorcycles at the end of your journey we realised that we all looked as if we had put a really cheap self tanning cream, since the reddish dust from the road had made our faces look more tanned.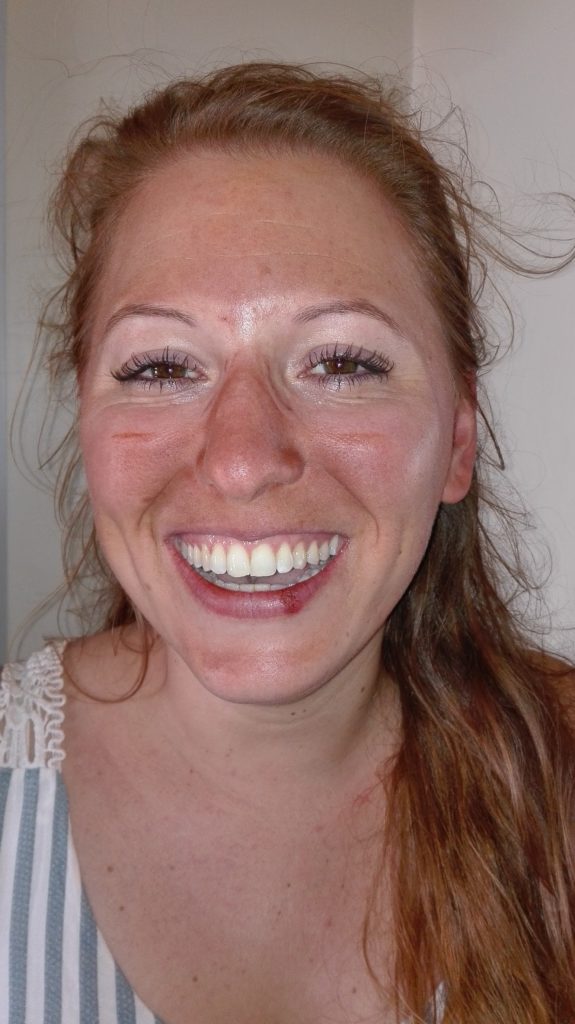 The Boda boda drivers dropped us off at a hotel, since we asked them to recommend one for us. We checked it out and decided to stay, since it was a lovely hotel next to the beach and we could get 2 bungalow-like rooms, facing the beach. We were promised a camp fire in the evening and only had to pay 13€/ person for that night and breakfast. We decided this was definitely what we were looking for and that we will chill out at the hotel for the rest of the day.
It was around 14:00 at that point and we were starving. We were told that the food gets delivered from an outside restaurant, so we should order about 45 min in advance. We ordered some food and then freshened up. In the end we had to wait for 1.5 hrs, which we spent strolling around the area and taking pictures.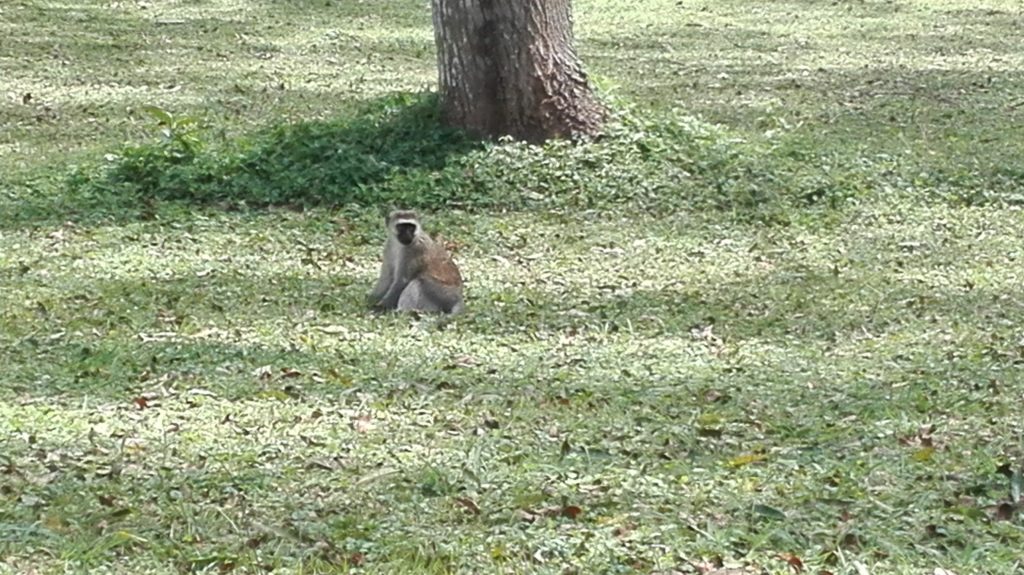 As you can imagine we were quite hungry once the food arrived! I was super happy about my big fish – a special one that apparently you can only find in lake Victoria (but I forgot the name).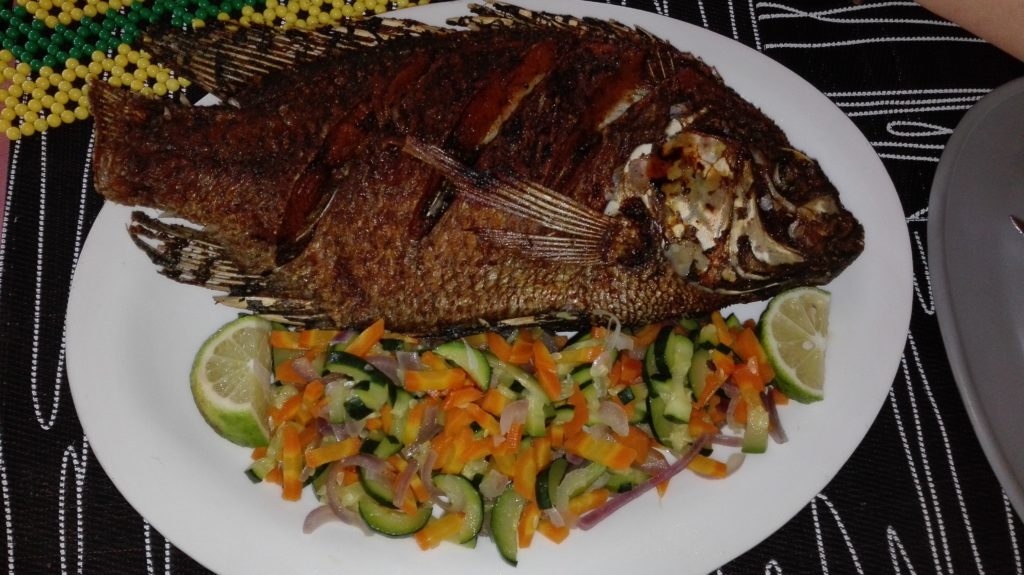 Moira and Dumitru were less lucky since they ordered an avocado salad, but apparently the kitchen was out of avocado and the salad consisted unexpectedly mostly of cabbage, which both didn't really fancy much. Thanfully we still had the massive avocado from the morning, which we ate now 🙂 . Isabel, Tatjana and Dumitru ordered some "African coffee", expecting some delicious Ugandan coffee instead of the instant stuff for a change. To their major disappointment, however, what arrived was boiled water – and guess what – Nescafe instant coffee. They complained to the waiter and he explained that this is what they understand as African coffee here. The "real" African coffee is called "brewed coffee". The waiter promised us to serve us the real one for breakfast in the morning.
I had wanted to get some massage in our hotel in Masaka for the whole week, but we were told that the massage lady was sick (which we later figured was a lie – she had just quit and they hadn't found a replacement as they admitted). The massage would have been 20000 UGX (~5€) for 45 min, so that is incredibly cheap for what I am used to. That is why we now asked in the hotel if they offered a massage. They said they could call some massage places for us. In the end they couldn't reach them, so the receptionist called for a person who took Dumitru and me to the neighbouring hotel that offered a massage. The staff person who accompanied us called for the manager there who then told us that the massage is 50000 UGX for 30min. We negotiated with him, telling him about the prices in our Masaka hotel and that the manager from our hotel here told us it would be 30000 UGX for at least half an hour. The manager accepted that later offer and so Dumitru and me ended up to get our long-awaited massage 🙂 . I got the massage first, since Dumitru was smart enough to take a book with him. The staff lady who accompanied us to this place had left us saying that this hotel will arrange a car back for us since it will be dark by the time we finished. I discussed with Dimitru that he wanted to walk back in any case, so I went to the reception and asked for the car. I waited for about 10 minutes but nothing happened. I got impatient and told the receptionist that I would just walk back home myself. I knew the path was quite easy, it would just be straight until I see the lights of the next hotel which was ours. Still, I had no phone, so also no torch and it was pitch-black outside apart from a little bit of moon light. I wasn't really scared, but my senses became aware of everything that happened – every noise that came out of the bushes, every bump beneath my feet. I tried to walk in the middle of the road, so that I won't fall into some potential pothole at the edge of the road. I guess I was back home after 7 minutes, but it did seem much longer! I met the girls at the bar, which was covered with a roof, but otherwise open. I asked them why they weren't at the campfire and they responded that the mosquitoes had been eating them there. Moira was so kind to lend me her laptop to write an email to all ISSU participants to invite them for culture night next week. And I indulged myself with a delicious passion fruit juice.
When Dumitru came back we dared to try sitting at the camp fire again and indeed it was already late enough for the mosquitoes to have fucked off. A hotel employee had started a conversation with Dumitru and he introduced himself as Julias. I found that funny, since Dumitru had made friends with a Ugandan guy at campus who was also called like me but with an "s" at the end. We asked him to turn down the volume of the music (we were the only guests at the the fire), since we would rather enjoy the sounds of nature. Actually, while having lunch earlier the hotel staff also started to play music just for us. At least it was 90s music and singers like Whitney Houston, which I love, but Moira complained about it. We were happy that we could now chill and chat at the campfire. At around 23:00 we went to our rooms; I truly enjoyed sharing a room with Isabel & Tatjana. It reminded me of the school ski trips, where around 6 girls shared a room and we secretly chatted for hours after we had to switch the lights off. I noticed that we could still hear music and also feel the vibrations of a sub-woofer. I went outside and looked around – I was sure it wasn't coming from our hotel. The most likely source was the hotel resort across the lake. It was incredible that we could hear and feel the music, despite them being so far away. I was quite annoyed, since I wanted to enjoy nature here and not be exposed to disco-like circumstances. Around midnight we switched the lights off (and stopped chatting) and realised that we could now hear the waves from lake Victoria (thankfully overshadowing the music a little). It was so soothing to hear those waves every time I woke up during the night and to wake up in the morning to that sound. We were amazed that this lake was so huge that it produced waves during the night.
Here are some sunset photos and monkey videos for you 🙂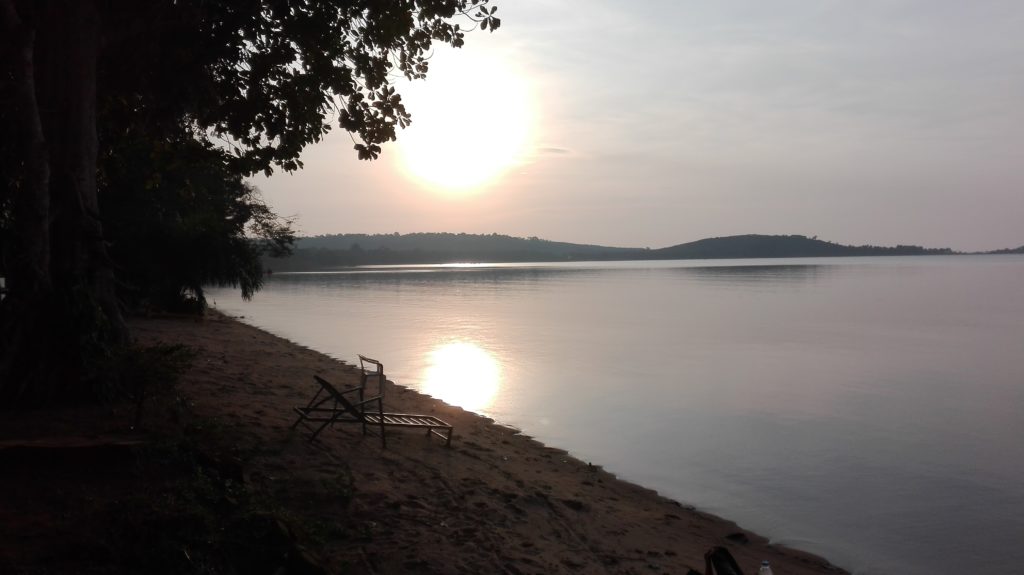 Click here to read the next episode of this Uganda Trip 2019 or navigate through the Table of Contents:
Table of Contents
Off to Ssese islands
---
Written by Julia Heuritsch in September 2019 | Last edited: 12th July 2022