Uganda Trip 2019 – Episode 6:
A Nature Walk on Ssese Islands
Sunday
I woke up with a weird feeling in my chest. It felt as if I was full of food, however not in my stomach, but rather in my chest. I asked myself if this had something to do with the fact that I had swallowed my anti-malaria pill without water the night before (instead of vaccinations you take a pill everyday, starting with 2 days prior departure and until 7 days after returning back. So at breakfast I felt as if with every bite something in my chest was compressed even more. We finally got the long awaited "brewed coffee" – the "real" African-grown coffee. While it definitely tasted less bad than the instant coffee from yesterday, it really was too watery. To bad …
At 10:00 we were supposed to meet uo with all other ISSU participants. At breakfast we received the meeting point via WhatsApp. Thankfully that was a hotel, only 1.5 km away from ours.
Dumitru and me decided to take the walk along the beach, while the German girls wanted to walk the inland path. It took the two of us around 20 minutes to arrive at the Pearl Gardens Beach Hotel. We passed by some other more bungalow-like resorts. At various instances we had to climb up the shore a little bit, because of the depth of the water.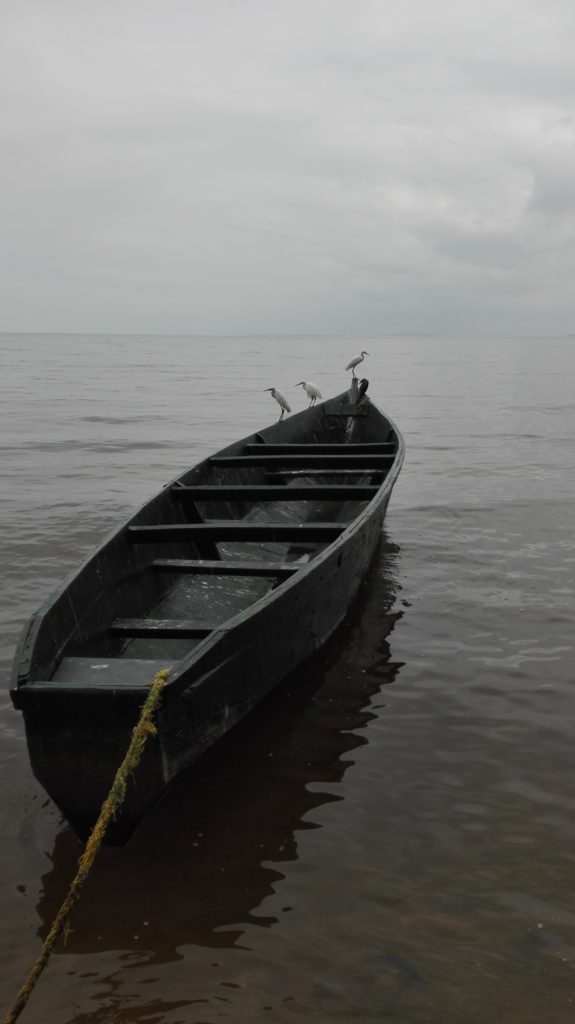 Once we arrived, we continued walking a little bit since we spotted a residence area around the ferry departure point (to Entebbe), which we wanted to see. since pictures is worth a 1000 words, I will show the photos at this point: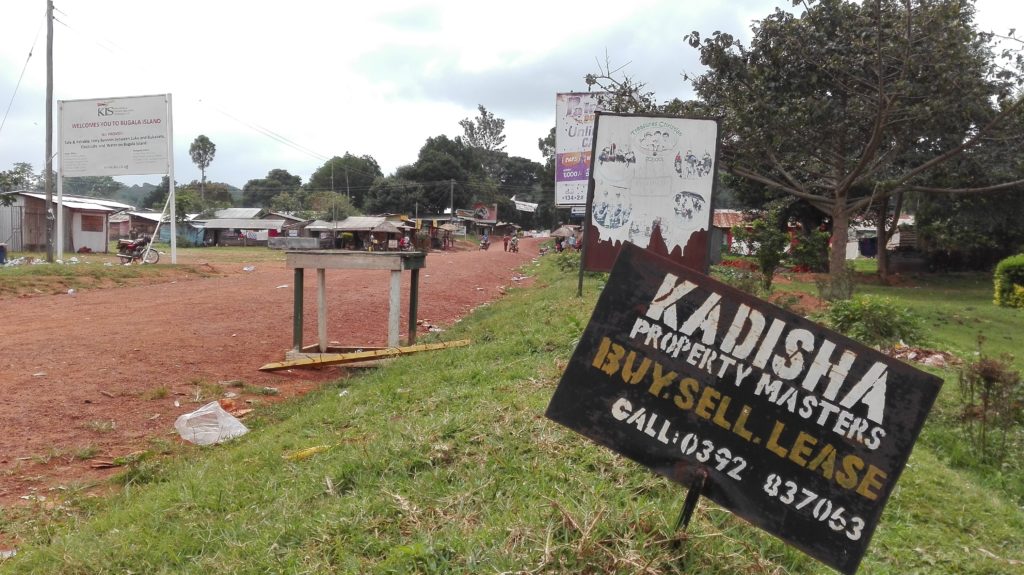 As we took quite a few photos I got worried that the group would be leaving without us, so I pushed Dimitru to hurry up. We headed to the hotel through the residential area, not via the beach, so I was hoping we won't get lost. Once we arrived at the hotel area I saw our university bus that took us to campus every morning driving away. Now I was really scared that it was leaving without us, so I started to run even though it was too far away. I saw a sign pointing to the reception, so I thought I better go there and ask what the plan was. Suddenly I spotted Loretta (one of the German organisers) and a few of the participants at a path closer to the beach. I screamed Loretta's name, she stopped – I was running towards her and we hugged. She told me that the rest of the group was still having breakfast and pointed me to the direction of the breakfast room. Once Dumitru and me arrived there, everybody was pretty much ready to leave for our "nature walk". I put on my big hiking backpack and a few people tried to convince me to take it to the bus. But I found it too much hassle to find the bus and then find back to our group again that I insisted on taking it. I explained that this is what we use to hike the Austrian alps, so I am used to go mountain climbing with this. I don't think that the Ugandans really believed me.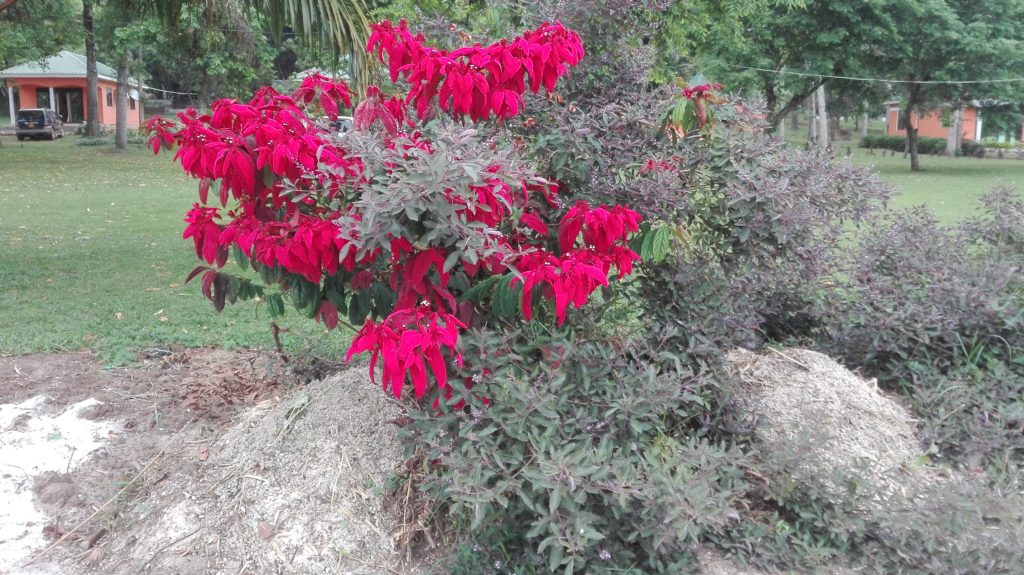 Our guide first walked us through the area that Dumitru and me had already inspected. Then we walked through the forest and learned quite a few things about the fauna & flora At several occasions we had to run and jump, so that the big ants won't crawl up on our legs, since it hurts when they bite. My favourite was the braided tree – some of us couldn't hold ourselves back from climbing it.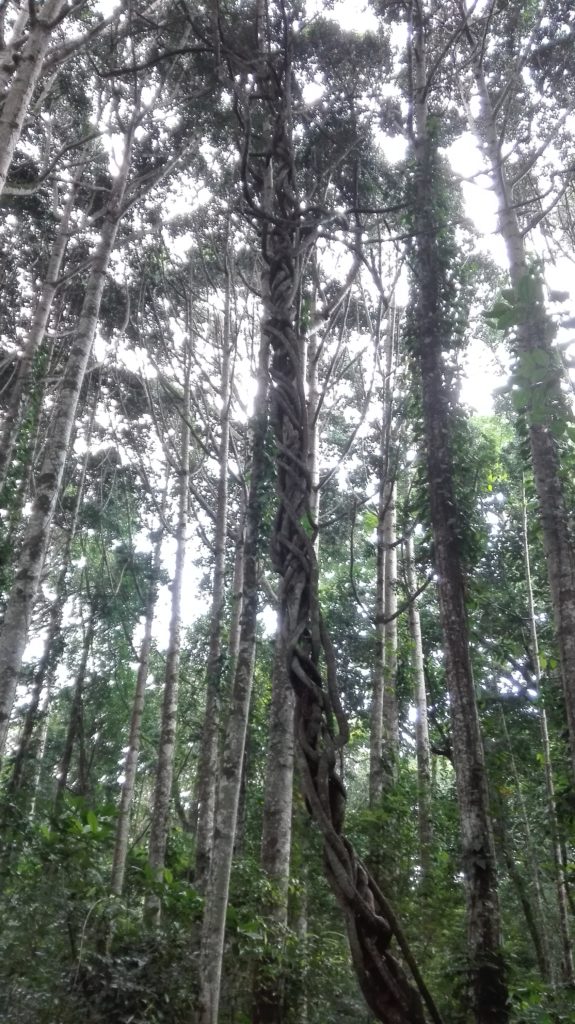 Unfortunately, half way through the forest, we had to say good bye to Loretta and Sonila, because they were going to take the direct ferry to Entebbe, departing from just next to the hotel. They were leaving already after the first week of the summer school. Rogers walked them there, while we continued our walk. Saying good bye was quite tearful including many hugs!
Back at the hotel we waited for our traditional goat roasting BBQ and so Leonie and me spent that time in the pool. The food was quite good, but the organisers rushed us, since we had to get the ferry back from the other side of the island (where we arrived yesterday) at 16:00 – the last ferry that day. So we went back the same way we came on the day before, but this time by means of the university bus instead of motorcycles.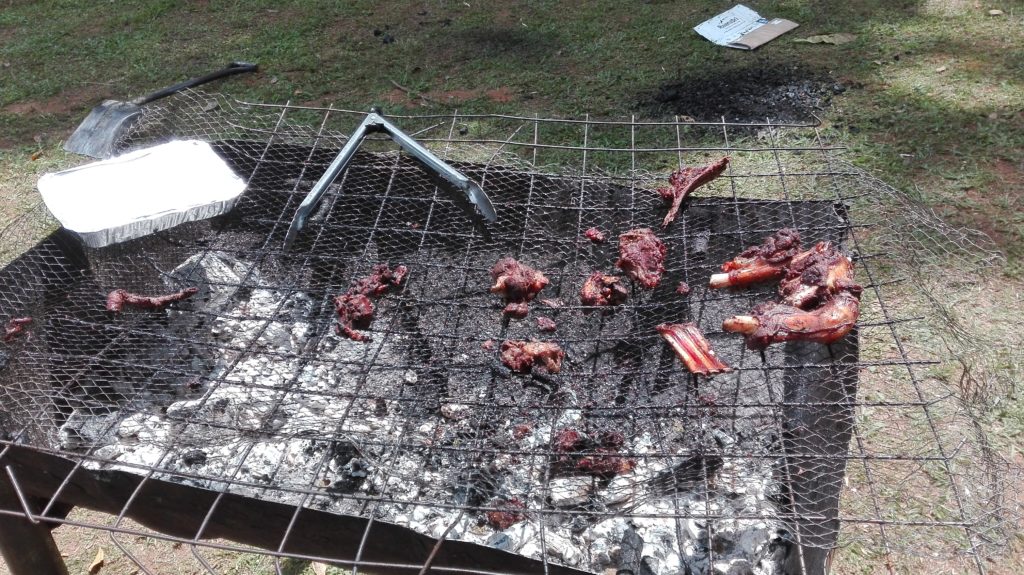 Actually, the bus looked like it's never going to fit on the ferry by judging from its bum lifting up in the air when driving onto the ferry. I asked Rogers how the hell they made it on the ferry in the morning when I was sure that also so many other cars wanted to get onto the ferry. He told me the very long story of how the group almost didn't make it onto the island: First of all, the bus driver hadn't arrived at 5:45 like he should have had to. So Rogers ran to the campus (around 15 minutes run) and wanted to enter through the gate. Since this was quite an early and unexpected adventure he didn't have his ID with him, so he had to bribe the gate person with 10000 UGX (~2.50€). He found the bus driver, made him hurry up and in the end the group was picked up by the bus at around 6:20 instead of 6:00. They arrived at the ferry just a little bit ahead of departure time at 8:00. Rogers had to negotiate again with the ferry staff to get the university bus onto the ferry, before all the other cars could get on it. My God, what a close call! The next ferry would have been at 12:00, so the whole plan for the day wouldn't have worked out if it wasn't for Rogers' intervention.
I enjoyed the ride back. I was relaxing and looking out of the window. Many kids were waving to us "Mzungus" again. Upon arrival in Masaka, I decided to join the German lecturers Anja, Oliver and the new one that had joined us that day, Philipp, for dinner at a restaurant that was founded by Danish people. They convinced me to join by telling me that I could get pancakes with chocolate sauce there – despite the brownies from Plot 99 I was still suffering from a chocolate deficiency. I ordered a pancake filled with ice-cream and asked the waitress for an extra portion of chocolate sauce, since I had been craving for a chocolaty dessert for so long. When the pancake arrived I still needed to ask for more chocolate sauce and thankfully she brought the whole bottle 🙂
We enjoyed talking to each other in a relaxed way as if we had been friends for a long time. Suddenly Marlene arrived with the other new lecturers. I knew that among them would be the director of GESIS, who would lecture the course I chose for the 2nd week of ISSU, and within microseconds I decided that I won't participate in the status game. What I mean here is that during the entire first week I sensed that we all feel equal in our human worth. I didn't perceive any status behaviour from anyone and I believe that this is a reason for the vibrant atmosphere we had, which I really appreciated. Since, even among the German participants and lecturers we didn't use the formal "Sie", I really didn't feel in the mood to start with that now. So I decided to introduce myself to everyone as Julia, and see what happens. I reached my hand to both of the "white" guys, knowing that one of them must be the director and introduced myself first, which normally should be the other way round. To my relief, Christof (GESIS' director) introduced himself with his first name and so did the other teacher, Dominique. Christof sat down next to me and so I got a chance to talk to him. I was quite curious to observe him and the behaviour of the other people around him. While before they arrived we talked in a really relaxed way, now I could feel tension and silence. From how he behaved towards me and the others – he was open and asked questions in a curious way, I concluded that the stiffness of the others is not a response of his authoritative behaviour, since I couldn't perceive any, but rather the knowledge that their highest boss is sitting at the table with them. In order to test the situation further however, I decided to tell Christof how amazing the first course was and that he had to follow in Sonila's big footsteps (him and Dominique would continue where Sonila stopped in the course she was teaching). I thought if he reacts well, he is a cool guy, if not, I know what I can expect and that probably I won't learn much from him. Unfortunately he had a question burning on his tongue when I said that, so he ignored it. But I gave him the benefit of the doubt – and he turned out to be a cool guy, although not nearly half as good as a teacher as Sonila.
Nevertheless, I left as soon as my pancake was eaten, since this whole situation had put a dent into my good mood. As I mentioned before, for the whole week there was this strong feeling of equality, despite different ethnicity and statuses. I perceived the distanced behaviour at the table this evening as out of line with that experience. I was hoping that Christof's arrival won't change the first week's atmosphere.
Back home I had to share my thoughts with Isabel and then I chatted with Pricky and Rogers at the bar. When Marlene and Norman arrived at the hotel they thanked me for my initiative with the culture night. Norman said that if there was an award for the most active participant then I would receive it. This was a huge honour. Especially because I never planned to get involved in organisation as much (of course Rogers would get the first price though!). It feels great when you get a reward, but even greater when you get it for something that you did because it felt right to do, irrespective of the impression you would make. Marlene added that she could observe that I transformed a lot since arrival in Uganda. I told her that it makes me so happy that she could see that. Because, indeed – before Uganda I was so tired of travelling, constantly having a cold, seemingly not able to fully relax. Uganda had given me back my energy again!
Click here to read the next episode of this Uganda Trip 2019 or navigate through the Table of Contents:
Table of Contents
A Nature Walk on Ssese Islands
---
Written by Julia Heuritsch in September 2019 | Last edited: 13th July 2022