Uganda Trip 2019 – Episode 2:
First lecture & Shopping in Masaka
1st Day of summer school
In the morning I was kind of relieved that I hadn't been able to wash my hair, because the high humidity caused everything to be damp and that made me feel cold. I did feel very dirty though – unwashed and no change of clothed because of my lost suitcase.
I quite liked the breakfast at the hotel, especially the pancakes were delicious. I also enjoyed the hot chocolate with gingery milk. Apart from that, one could have potatoes and vegetables, which I don't like to eat for breakfast. Unfortunately, we could only get the Nescafe instant coffee, since the coffee Uganda grows goes mainly into export (!). That is why I didn't drink coffee at all in Uganda.
The bus from the hotel to university was supposed to leave at 8:00, but we left about half an hour late. I would learn that in Uganda schedules are more indications of what's going to happen than something to stick to. Our first day of the summer school (ISSU) started with a group photo and an opening ceremony.
What I found interesting was that African participants would great back when a speaker would say "good morning" (or "good evening" for that matter), while Europeans would just stay silent. I also enjoyed that the opening ceremony wasn't quite as stiff as I am used to in Germany, but rather the vice chancellor of the university seasoned his speech with quite a few real live stories. Interestingly, the ceremony ended with a prayer.
With a delay of 1 hour we finally split up in 2 groups to attend the different courses that were offered in the first week. As I sat down in our lecture room, I placed my bags on the floor .This turned out to be a big mistake. The rain had leaked into the room (!) and so the floor was wet.
The WiFi strength in this room was semi-optimal and on the first day we had several power shortcuts. During the next days this became less frequent (maybe 2/ day). Thankfully, we all had our own laptops with the lecture slides downloaded, so we could just continue even without power.
I asked the Ugandan organiser of ISSU (the organisation was a cooperation between Ugandans and Germans) to help me call the baggage office to investigate when my suitcase would finally arrive. I was told that today they were waiting for whether or not my luggage is coming from Addis. It didn't seem like they had a clue of whether the suitcase was actually there. However, my hopes were up – I only had 1.5 hours to change planes in Addis, so the chance was high that this wasn't enough time to get my luggage on board.
Consequently, I still didn't know when my luggage would arrive and when I will have some clothes to change. Since I had planned to buy some African outfits anyways because I love the colours and the style, I took this situation as an opportunity to go shopping. I asked in class whether a few locals would be willing to help me shopping. Within a short time, I had 3 volunteers – Pricky, Rogers and George – who were willing to help.
Class always finished at 17:00, and we decided to go back to the hotel first to drop our laptops. Some other people said that they would like to join our shopping trip. We were a group of maybe 7 people who went to town together. It looked very different from buildings in Europe. Often the buildings don't have doors, one just walks in. There is one shop after the other and one can see from what they are selling what kind of shop it is – there often is no sign indicating that. Electricity cables are just messily arranged around the next corner you may turn.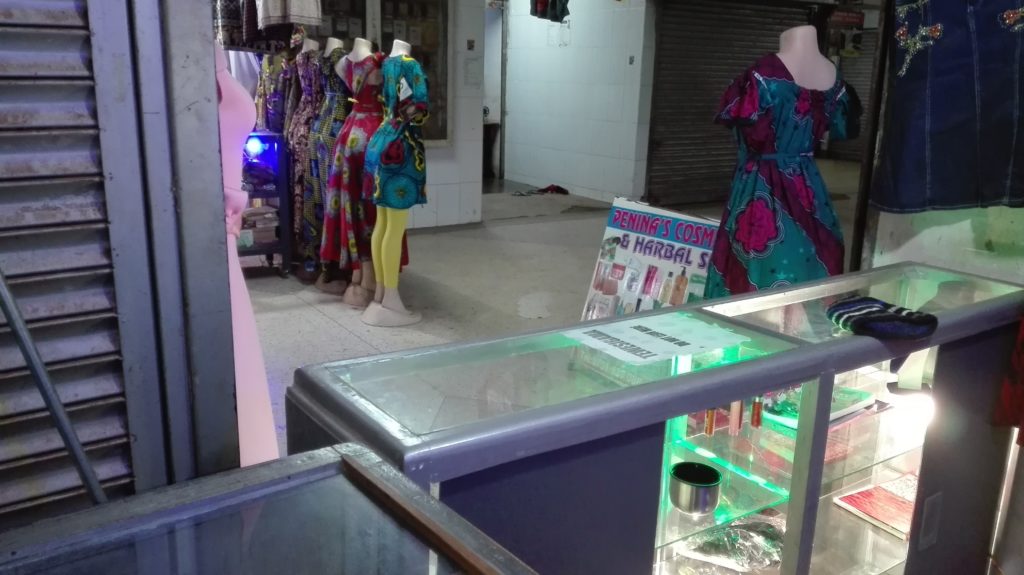 Pricky was very patient to stay with me and help me choosing outfits. It was also very helpful that she negotiated for me. She wouldn't let the shop person rip me off and told them that they shouldn't judge me from my skin colour (indicating to them that I supposedly have more money than locals). We bought 4 outfits in 2 different shops for an equivalent of 10€ per outfit. In the second shop the vendor had to make slight changes to the dress and so we waited for a bit. The kids of the vendors were running around bare-feet. One started to cry, so I crouched to calm it down. It was very curious about my skin colour so it stopped crying. When I received the dresses I saw how another kid pied on the corridor of what one could call the shopping mall.

Once finished with the shopping we called Rogers, since he and the others had gone on their own shopping tour a while ago. They were in a bar so we headed off to meet there. We weren't aware it would be such a long way to walk – it took us close to half an hour! It was dark already and walking on the side of the road was an adventure due to the potholes one couldn't see. Once I stepped into one with mud and I only realised at home that my pants and shoes were completely muddy.
After spending some time together at the bar, Pricky and me decided to go home on a "Boda boda". That is basically a motorcycle taxi. Some tourists are scared of it, since one doesn't get a helmet and the driving doesn't necessarily always feel super safe. However, I trusted Pricky to judge whether we can hop on or not. It was actually a lot of fun! The 5 minutes drive cost 0,50€.
Once back at the hotel I decided to accompany Pricky to her room. It was located in a part of the hotel which was a bit further away than the main building. When we arrived there we saw the receptionist helping another Ugandan girl moving out of her room. I asked if I could talk over that room, since I had wanted to move anyway to a calmer area of the hotel. I was told that the Ugandan lady changed rooms, because of the smell of paint. I didn't mind that and so I got to move to that part of the hotel where the rooms were brand new and looked like princess bedrooms.
Despite being new, it wasn't fully functional. The sink leaked at its bottom. The shower pressure was ridiculously low, but at least it had hot water. Even though it was only my first full day in Africa I wasn't surprised at dysfunctions anymore. I stopped judging them as badly as I would in "Western" facilities. That was quite a relief actually and definitely helped me feeling more like living in the moment – I never knew what's going to happen next and I didn't even attempt to get things under my control 🙂
The German participants and lecturers were located in the main building, together with African participants. The building where I had now moved to was only inhabited by Africans. My shopping experience made me bond with the locals and given that now I lived in the same building as them I felt very integrated and a lot of joy. I fell asleep with a smile on my face.
Click here to read the next episode of this Uganda Trip 2019 or navigate through the Table of Contents:
Table of Contents
First lecture & Shopping in Masaka
---
Written by Julia Heuritsch in September 2019 | Last edited: 7th July 2022