Uganda Trip 2019 – Episode 4:
Ugandan Steam Bath & BBQ
4th Day of summer school
From that day onward, I didn't hand in my key to receptionists anymore when we left in the morning. This was for 2 reasons: First, I wouldn't need to queue anymore to retrieve my key in the evening when everybody got back at the same time. Second, having my room cleaned everyday felt like a waste to me, given that I was there only to sleep. Actually, this would also save me the hassle of having to untuck my sheets and blankets every night (yes, I don't like them tucked in while sleeping – feels like a straitjacket).
During the lecture we experienced an impressive thunderstorm. The wind was extremely intense – we had to close all the windows. The rain made the roof sound like drums. I felt so alive! This fantastic spectacle of nature caused the power to break down yet again. Combined with the memory of all the small things that haven't been working like expected made me shockingly aware of how dependent we comfortable Europeans are on millions of people providing us with food and maintaining infrastructure that we take so for granted.
Unfortunately, I couldn't capture footage of the thunderstorm, but here are some photos from the 1st week's lectures: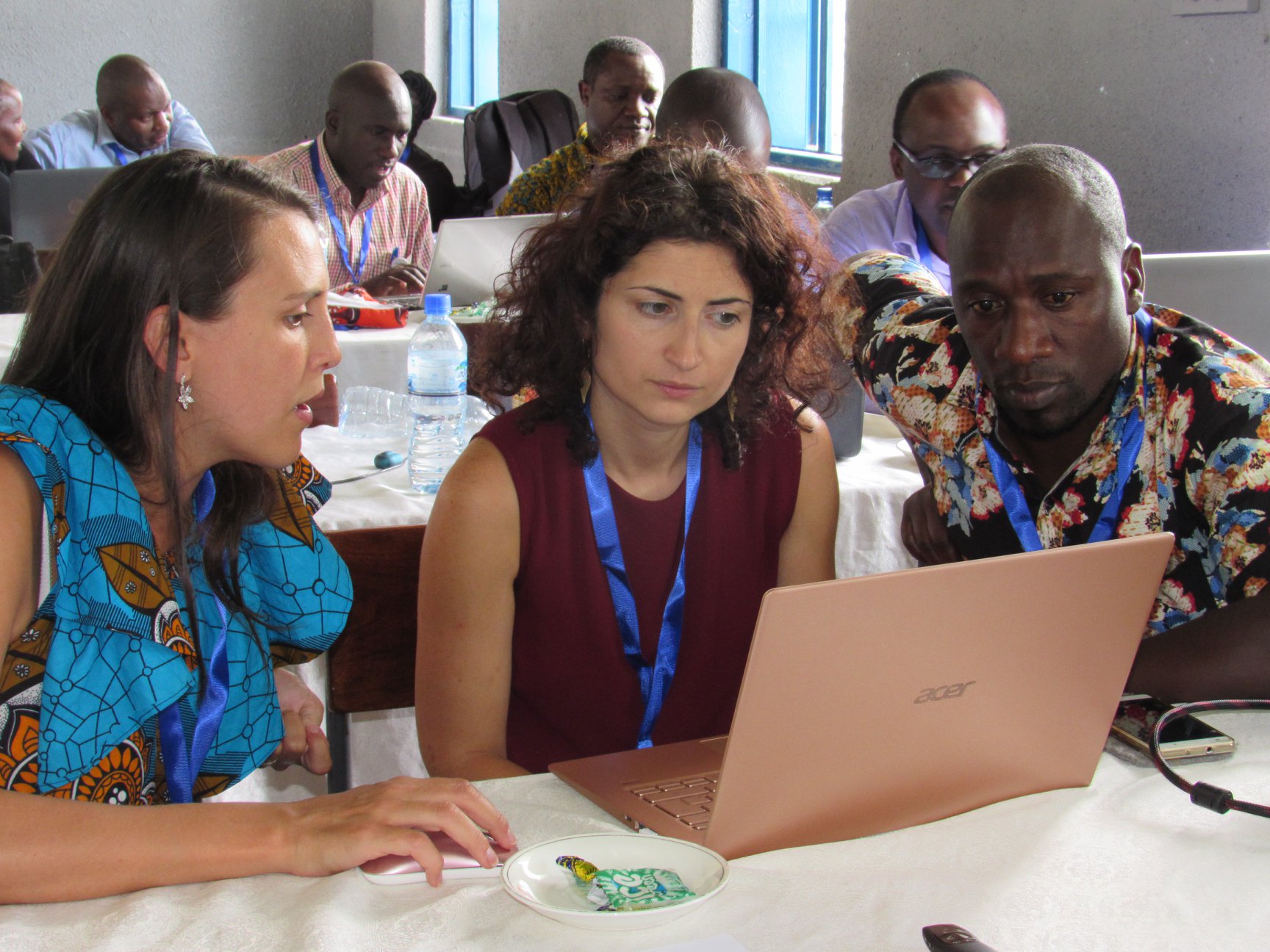 After the summer school's (ISSU) evening panel I found a participant who would walk home with me instead of talking the bus. 5 minutes to home we bumped into the group of German girls who had skipped the evening panel and were on their way to Plot 99 – a European-priced restaurant where we would sometimes go in the evenings. They told me that they served brownies there and since I had been craving for dessert for days (we were "only" served fruits for dessert and I was running out of emergency chocolate I brought from Europe) I joined them to get a brownie (and, yes I am absolutely a chocoholic!). I didn't want to stay, since I had planned to go to the hotel's steam bath as soon as the other participants would arrive. So I ended up having to walk the rest of the way to the hotel by myself. I thought about my grandma not being pleased about me walking alone in the complete dark. I knew the way – sort of at least – but I hadn't walked it by myself yet. Again, it was pitch-black and my phone was nearly out of battery, which meant that I didn't want to waste the rest of the energy for the torch light. At one of the cross-sections I really wasn't sure what direction to take and I made a quick guess, since I didn't want to seem lost – I didn't want to give the impression to anyone potentially walking by that I was lost. Fortunately, my guess was right and I safely arrived at the hotel. That was a bit scary though, I have to admit!
Pricky, Rogers and a few other participants joined me going to the hotel's steam bath. We payed the equivalent of 1.75€/ person, which included entry to steam bath, sauna, tea with fresh lemons and popcorn! Ugandans seem to love snacking popcorn. We received a linen towel to wrap around our naked bodies and one to wrap around our head. I really liked the steam bath, since steam was constantly filling the room, unlike the ones that I am used, where the steam switches on and off periodically. In between our steam bath sessions we enjoyed the tea and relaxed on the lounge beds.
5th Day of summer school
This day, unfortunately, marked the end of our first week's course. Our whole group truly enjoyed this course and I personally think it was the best course I have ever experienced! Our lecturer, Sonila, was an exceptionally good teacher. She is extremely competent, her content was well-structured, but, perhaps most importantly, her interactions with us were empowering and inspiring. We had such a vibrant atmosphere in class, everybody wanted to contribute and during the assignments we were craving for her constructive feedback. It is very difficult to find a mentor, teacher or supervisor with whom one feels so motivated and empowered that I wanted to show her our full appreciation. I handed around a blank piece of paper and it was returned to me with a personal message from everybody. A Ugandan participant had the idea to collect some money to buy her an African dress.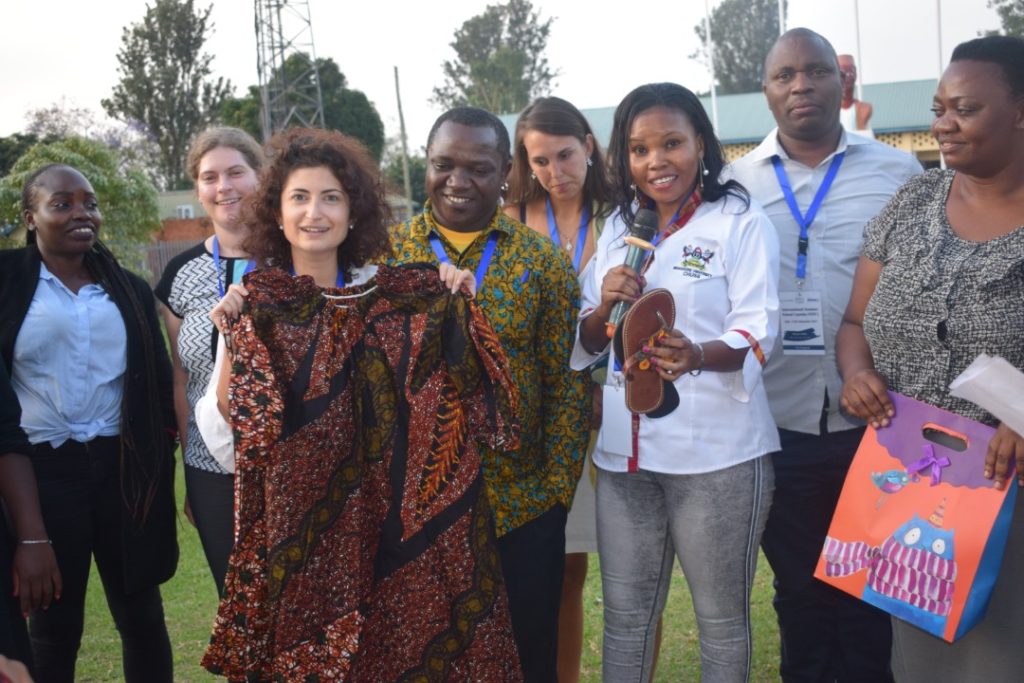 That evening we had a BBQ altogether, which included Ugandan dance performances – a super nice evening was about to start …
We actually needed to wait for the BBQ to hand over our presents to Sonila, since we could only buy the dress after the lectures. I was asked by some course mates to read out loud some of the personal messages we had written down. So we went to the front as a whole group, took the microphone and thanked Sonila. While I was talking my eyes teared up, since I was so grateful to have had such a fantastic teacher. Funnily, the other group from the other course felt the need to now also thank their teachers, so they wrote a speech while we were talking. That speech was actually quite good, given the little time they had. I felt a bit bad, putting them into that desperate situation, but on the other hand, it was never our intention to expose the others, but only to express our deep gratitude towards Sonila.
At the BBQ, I received a piece of meat, which I was told was pork. As I tried to eat it, I noticed that it was extremely chewy – I couldn't eat it. I went back to the grill in order to fetch another piece. I asked for a piece of pork and the chef said I should wait a second. He took off the piece that was still on my plate and put it on the edge of the grill! I told him twice that maybe he should throw it away, since I licked all over it, but he didn't. I hoped he wouldn't serve it to anybody else – haha! I also thought, maybe he thinks that I am a stupid white person who doesn't know what's good. Anyways, I became impatient after a few minutes and so I asked what the other pieces of meat were that were ready on the grill. I was told it's goat, so I thought that it sounds yummy and took one. This piece of meat wasn't any less chewy than the first one and suddenly I realised that, while goat sounded quite normal, we don't eat it in Austria or Germany. I wondered why that was and speculated the reason might be precisely because it's so tough to eat. I shared my thoughts with my Ugandan colleague at the table. He swore that goat meat is super tender and delicious and so I asked him to bring me a piece that was good. He did and indeed that piece was very good! I was also told that they don't serve pork here, because of religious reasons, so I was quite confused about why I got sold goat as pork to begin with. Aaand, just like during lunches, we got served warm soft-drinks and even warm beer with the BBQ.
The evening was fantastic. The professional dance performance was very interesting and later participants and lecturers joined in the dancing too. The evening was moderated by Rogers – it was so beautiful to observe how much he enjoyed his role as spontaneous entertainer. He was so good, I could have believed that ISSU hired him for this specifically. That was also an interesting thing to observe in Uganda: things not working out they way they are planned requires improvisation and improvisation requires people to fill roles spontaneously. It is really beautiful to observe people taking on roles that they are completely suited for and that they enjoy from the bottom of their hearts. I doubt that in Germany the organiser of such a summer school would have been pleased if a participant had taken on so many organisational tasks as Rogers did in those 2 weeks. A "Western" organiser would have probably felt insulted in their role and so a lot of opportunities for people to tackle emerging issues would have been lost.
When I got home I felt truly inspired and euphoric – for the whole week I had a really strong community feeling. I felt that everybody was curious about other people's stories and points of view, that we respected each other and wanted to get to know each other. We had breakfast together every day, lunch, coffee breaks, working on assignments and finally in the evenings we say good night. It started to feel a little bit like a big family. I was so inspired that I planned to organise a culture night – an evening where every nation shares whatever they regard as special about their culture and ways of living. When I packed for Uganda I was considering for a second to take my Dirndl (the Austrian traditional dress), but upon departure I was having so little energy that I didn't expect myself to socialise in the evenings, let alone organise an event like a culture night. And there I was – full of energy from the vibrant atmosphere we created together during this summer school in Uganda!
Click here to read the next episode of this Uganda Trip 2019 or navigate through the Table of Contents:
Table of Contents
Ugandan Steam Bath & BBQ
---
Written by Julia Heuritsch in September 2019 | Last edited: 11th July 2022